I have been an athlete my entire life.  It started at birth.  I cried and cried and cried until I was about 18 months old.  That was when I started to walk.  The theory is that I was so frustrated about not being able to move I cried, morning, noon and night.  Once I felt the freedom of moving around the tears stopped.  At the age of 5, my Dad tied my first pair of ice skates and I starting playing ice hockey.  I played other sports, but hockey was the one I really loved.  I played four years of college ice hockey at Middlebury College and then it was all over.  My career came to an end.  I relished in not having to go to the gym for about six months, but after that I missed working out, playing games, and most of all I missed having teammates.  They were my family in college.  There was a gaping hole in my life… until I found ball hockey.
It's New and Different
Ball hockey is different enough from ice hockey to be quite challenging, but it's similar enough to feel like home while playing.  You get lost in the game and before you know it the final buzzer is ringing.
It's Made Me a Better Player
Ball hockey has pushed me to become a better overall hockey player, both on and off the ice (I still play in a women's ice hockey league).  The ball is harder to control than a puck and so I have become a better stickhandler.  Running is much different than skating.  The most obvious difference is that you cannot glide like you can on skates and so you have to move your feet all the time.  Ice hockey players are supposed to move their feet all the time but I find myself falling into lazy beer league glides.  Ball hockey makes it apparent when you fall into these habits.  You realize 'oh shoot, I'm not moving right now, I just missed a perfect opportunity for a give and go, but I never went!'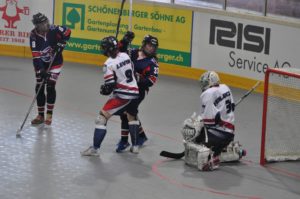 It's Given Me Back A Family
In 2010, I started ball hockey through the Boston Ski and Sports Club coed outdoor league in Watertown, MA.  I joined with a friend and we were put on a group of individuals all looking for a team.  We chose to be called Shut Your Five Hole.  Our team lost every game that first season but won every post-game by grabbing drinks and having a blast.  Six years later I still play hockey with Shut Your Five Hole and, in addition to winning a few championships, I've made lifelong friends.
In 2013 I got an email asking if I wanted to join a women's team for a tournament.   I was hesitant: I didn't know anyone, what if I didn't like the team, what if I get hurt, what if I don't play well?  After some persistent persuasion, I said yes and I am so thankful for the peer pressure.  I love Shut Your Five Hole, but playing weekend women's tournaments makes me feel like a little kid again.  The camaraderie of the women's teams and the fun of traveling to other states to play hockey brings me back to my girls travel team days and to my college ice hockey experience.  There's something special about road tripping with teammates and then laying it all out on the rink for two days straight to win a championship.  The only difference from when I was a kid is, instead of going into the hallway to play hours of shinny hockey and annoy the entire floor, we go into the bar and share hours of drinks and annoy the entire hotel.
This Family is More Diverse!
I am one of just a few ball hockey players that played ice hockey growing up.  Most players picked up the sport later in life and have fallen in love with the dynamic, fast paced nature of the game.  Most, but not all women in ball hockey were athletes before in sports like basketball, soccer, track and field or field hockey.  Every player brings something unique to the team with these different backgrounds.  I am not nearly as fast as the track stars, nor as good of a stickhandler as the field hockey geniuses, nor have as much endurance as the soccer players, but I bring my ice hockey creativity to the game.  This kind of diverse team makes for a dynamic, fun, competitive atmosphere.  I love playing with women I wouldn't otherwise get a chance to compete with if I only played ice hockey.
I joined this incredible community by sheer luck.  You should join too.  You will find a new challenge, become a better athlete, and find a loving, diverse family to play with and have fun.
By Karen Levin