Ball Hockey
Competitive, fast-paced sport similar to ice hockey.
Hybrid Rules
Ball hockey rules are used in international play.
DEK Hockey
Most notable rules difference is center line offsides.
Organized with rules!
Played on rinks indoor or outdoor, first form of "street hockey" played with rules.
Street Hockey
Literally played on the street or any flat surface with a stick and a ball.
Anyone can play!
The term street hockey is believed to have started in Canada.
Street Hockey, Dek Hockey Ball Hockey – Lets talk about hockey played on foot.
WHAT IS BALL HOCKEY?
Ball hockey, also known as street hockey or dek hockey, is a competitive, fast-paced sport similar to ice hockey. Ball hockey is distinctive because, instead of skating, players run and play with a hockey ball instead of a puck. These differences make ball hockey a unique sport with its own pace, rules, and appeal.
To play ball hockey at the most basic level, all you need is a stick and a ball.
EQUIPMENT
Ball hockey players wear shin guards, gloves, elbow pads, and helmets. Depending on what league or tournament you are playing in, some of this equipment is required and some is optional based on preference.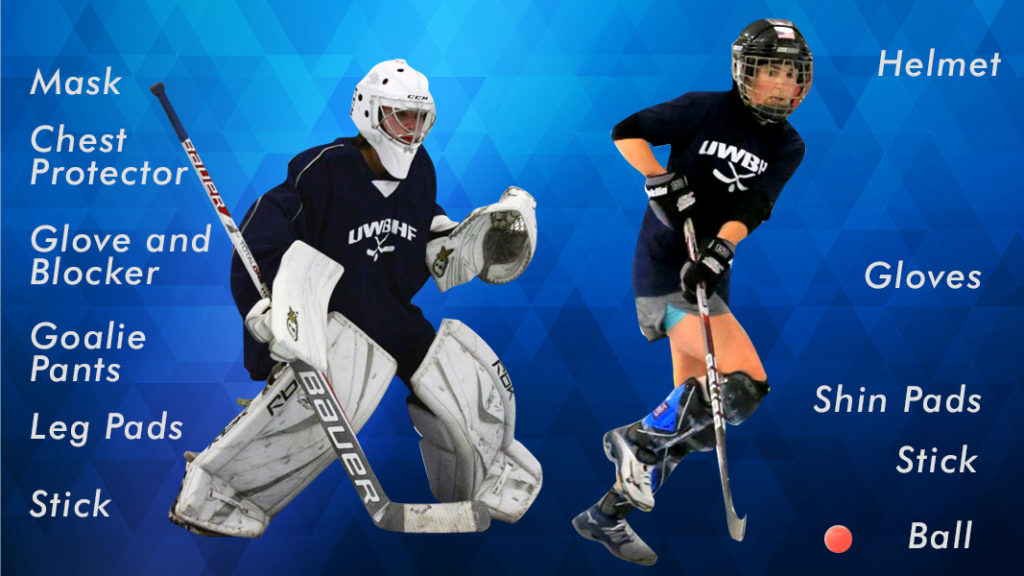 BASICS
A ball hockey game consists of 3 timed periods just like ice hockey. The amount of time in each period depends on the specific tournament or league. Ten players and two goalies are on the rink at one time; each team has five players and a goalie.
Each team typically assigns players positions. Teams often play with three forwards, two wings and a center, and two defenseman.
The goal of the game is to get the hockey ball in the opposing team's net. Each time a team scores a goal that team gets one point. Whichever team scores the most points wins the game.
HISTORY
It is believed that street hockey began when roads began getting paved in wealthier parts of North America around the turn of the 20th century. The term street hockey was coined in Canada around that time. People would literally play the game out in the street.
As children and teenagers, almost all ice hockey players work on their skills by playing street hockey, often alone in driveways or out in the street in front of their houses. Throughout the history of organized hockey, many professional ice hockey players participated in various promotional street hockey games and charity events. Since not every ice hockey player can be on the ice at all times, the vast majority play some form of street hockey, either for pure enjoyment or to better their overall hockey skills, or both.
It was in the early 1970s when Raymond W. Leclerc, founder of the Mylec Corporation, along with several prominent players in the Northeastern United States and Southeastern Canada, established rules for the more organized form of the game. These rules were quickly adopted by most leagues in the area and then eventually spread throughout the US and Canada by means of a printed rulebook.
After a few years of experimenting with all the dynamics, Mr. Leclerc built a model site in 1974 to play and advance the game in Leominster, Massachusetts. The site, Leominster DekHockey Center, has 3 outdoor rinks, all with modular sport court surfaces and is informally known as the "Home of Dekhockey." Organized street hockey caught on with leagues and tournaments forming in Toronto, Montreal, Ontario, New York, Long Island, New Jersey, Pennsylvania, and Maryland. The game then spread South and West as the Northeast USA players relocated to different areas of the United States and Canadian players moved outside of the Ontario and Quebec provinces.
Street hockey became a competitive international sport, and the International Street and Ball Hockey Federation (ISBHF) was founded in 1993. The ISBHF is the official governing body of the sport.
Contact us!
We will have clinics, tournaments and much more!
If you'd like to join us and learn more about the sport contact us today!
Contact us!